Around the month of July 2004, the Lord impressed upon me to continue the Crosswalk ministry again, but this time in Susanville. So it begins again... As we bear the cross of our Lord in the Susanville we have noticed quite a difference than the crosswalk we had done on the Trail of Tears. One, the load seems to be heavier. The burden is upon us to pray for the river to come and flood the valley, but the prayers seem every so much important. I sense the difference from the Missouri walk which was for reconciliation, this one for possession of the land. In Missouri we found the ground hard going, this one is easier going but the people are very different. The spiritual realm deeper and more intense, or is it us? What changes have taken place since I began the first walk? I pray that I will know!
We began early morning and are looking forward to putting damage to the realm of the evil one. Hail Jesus, King of Kings!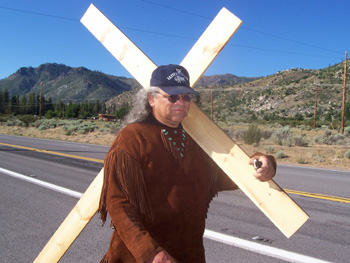 Whenever I start to question the motives of why God would have me do things, I find that God has His reasons and His purpose and I am only suppose to be obedient to the plan. I desire to put my hands to the plow and not turn back. God always comes though and blesses our journey, no matter what.
So we walk again the road that God has provided. We pray for His strength to complete the task at hand. We also pray for workers in the fields so we can jointly gain in the harvest set before us.
Come join us if you can!
Highway Patrol wonders, "What's up!?"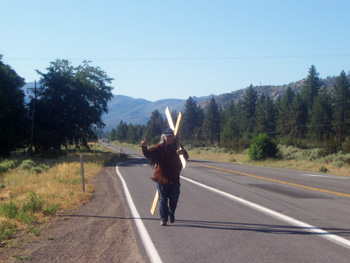 Pastor Bruce points out the direction the cross is moving