The Trail of Tears Crosswalk
Proverbs 29:18
"Where there is no vision, the people perish: but he that keepeth the law, happy is he."

One night in 1999 a vision came to me about moving a cross down the Trail of Tears. Now, I am not trying to give you a Hyper Spiritual rendition of how this all came about, but I am talking as one friend to another would, face to face. I had heard that small voice that only comes from God, about retracing the Trail of Tears bearing the cross of our Lord. At first I brushed it off, as sometimes we do. Whether it was not practical, too costly or whatever, but I ignored it after first mentioning it to my wife.

Later that year, I was praying about doing something for Native Americans and not just occupying a pew somewhere. I prayed about the Lord giving me a pulpit ministry to reach Native Americans, or evangelism outreaches and the like in Indian Country. I have always had a calling to do this and felt I was prepared to finally get it done. But how? Where to begin belongs to the realm of the Lord. Upon finishing that prayer the answer came quicker than I usually get an answer, and in a way that usually gets better results with me. The still and quiet voice told me;

"If I cannot get you to do the small things, how would I get you to do the bigger things?"


I knew right then that the Lord was referring to the call to carry His cross along the Trail! After repenting and crying out to the Lord about the vision, my wife and I built a cross from wood, grabbed some maps, and went! In actuality, it was not so much as the whirlwind that I have described, but it was rather fast after the answer came from God. I presented the vision to my pastor (Tim Snider) and he was behind it as well.

Out first trip was the most challenging as so many unknowns factor in. How are we going to be received? What could happen? Who would help us? All of these questions get answered through obedience to what God gives you to do.

The first time out we started at the Trail of Tears State Park, at Moccasin Springs in Missouri. This is the place where so many of my people had died crossing the Mississippi during the winter of 1838. Most died of frostbite and pneumonia from the hardship of the crossing after moving over the Trail from other states. We carefully prayed a prayer of Faith and began the walk from the Mississippi River, up the hill, past the visitor center and beyond the park. God had to be with us as park demonstrations are NOT ALLOWED and it is strictly enforced! We had rangers watching us, but they did not hamper us.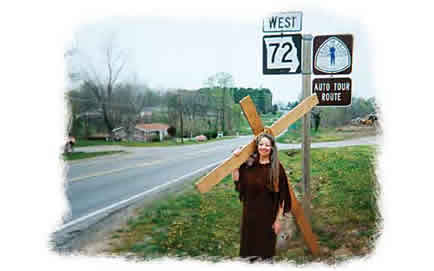 Once out of the park we began the long road that my ancestors had begun so long ago. We did not have their burden of lack of food and warm clothes. We did not have illness and sickness and that feeling of loss from losing everything they had to thieves and land grabbers. What we did have was the Lord's blessing, the cause of binding together for reconciliation of Indian people and Euro Americans, and the message of the cross. Many blessings come from obedience to what God gives you to do. This is not our cause, it is the work of God.

The work goes on today. On the Trail we have met all types. Some honk their car horns as they drive by, some give us odd looks, some are supportive, others not. I have received TV interviews, newspapers have written of us, word of mouth has spread, etc. One guy stopped us on the road and talked of bringing the Trail up on his radiocast. We at one point stopped to take pictures of a wonderful lake and were invited to speak at a church about what we were doing.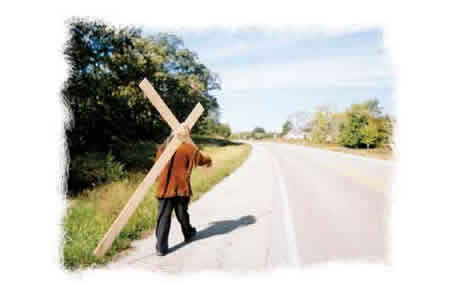 We have had opposition as well, but the cross is still moving. Most of the time slowly, as finances come, when blisters heal and when work allows. It mostly moves during weekends when things come together for us to do it.

The time has come for a move of God to be put to action;

In Mark 8:34 it says; "And when he had called the people unto him with his disciples also, he said unto them, Whosoever will come after me, let him deny himself, and take up his cross, and follow me.





May it be done.